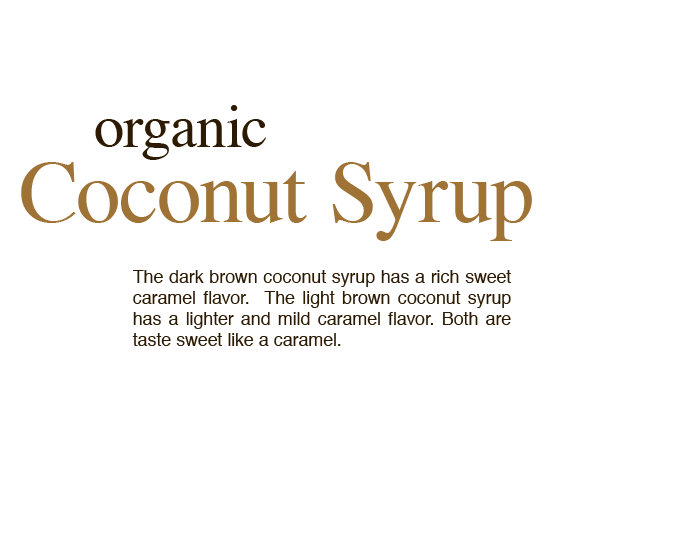 Organic Coconut Syrup
Our organic coconut syrup is one of the alternative coconut sugar in liquid appearance. Coconut syrup is made from coconut nectar with vacuum evaporated technology. Available in two variant, brown coconut syrup and light brown. It has Glycemic Index 39 and low.
Application : Sweetener, sugar alternative, drinks, sauce and salads, bakery and confectionery, Preserved food, Dairy, etc.
Packaging : Bulk Packaging and Retail
Coconut Syrup comes from coconut nectar with vacuum evaporated technology. We are choosing and controlling the best quality of pH, brix, taste and color of coconut nectar that could be produced. Coconut nectar that would be processed ascertained from any impurities because we had already filtered it clearly. The main process of coconut syrup production is under controlled evaporation until it reaches the desired concentration. Coconut syrup produced by vacuum evaporating to reduce water content with quality controlling of brix, pH, taste and color. Last step of the production are cooling for lowering the temperature and packaging coconut syrup.
Our coconut syrup is available in two variant. There are dark brown coconut syrup and light brown coconut syrup. The dark brown coconut syrup has a rich sweet caramel flavor. The light brown coconut syrup has a lighter and mild caramel flavor. Both are taste sweet like a caramel. It is considered to have a much lower glycemic index than the majority of other sugars. It also contains many useful micronutrients.
Both variant of our coconut syrup are perfectly used like other syrup as topping for pancakes, waffle or bread. It can also be used to sweeten your daily coffee or tea or milk shake. It could be substituted for common white sugar in bakery and pastry products. Moreover, there are still hundreds ways to use coconut syrup, just be creative with it.