PT Mega Inovasi Organik at BIOFACH 2019 – World´s Leading Trade Fair for Organic Food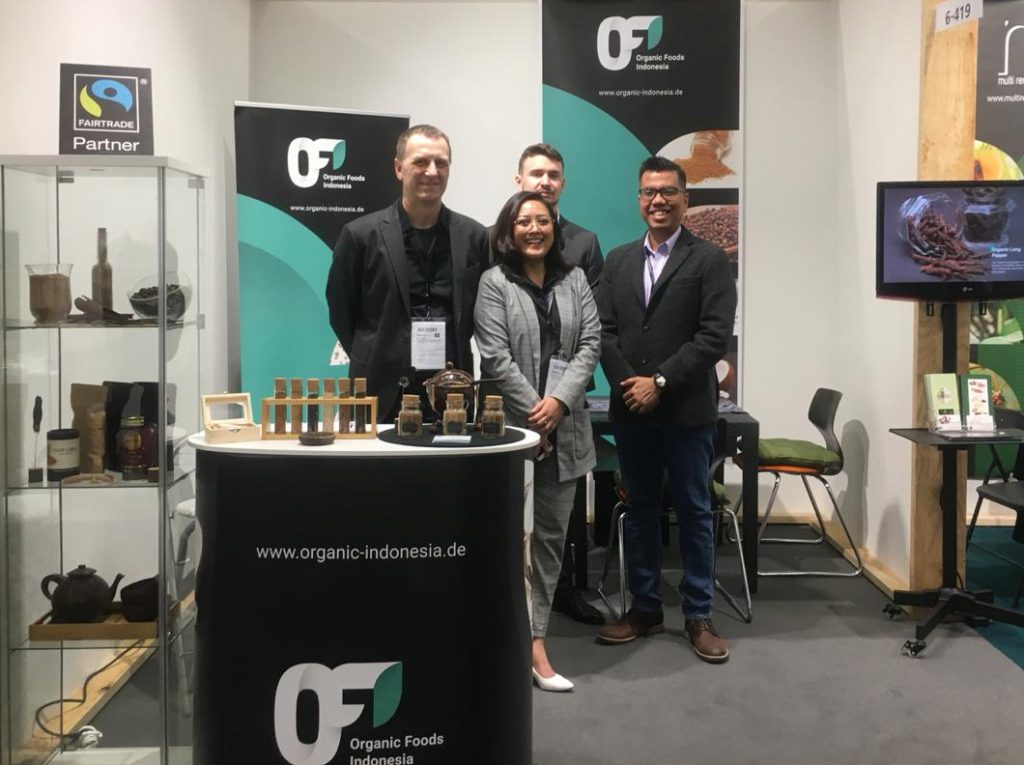 Organic Foods Indonesia AR UG is a joint venture between PT Mega Inovasi Organik in Indonesia and Indonesia Consult RS GmbH in Germany and offers high quality premium, organic and fairtrade products direct from the farmers. For some years, Indonesia Consult RS GmbH (IndoCon) and PT Mega Inovasi Organik (MIO) have been building a successful collaboration by providing organic products from Indonesia to Europe, with coconut sugar as the signature product. Therefore, we present you, Organic Foods Indonesia AR UG (OFI), as an official distributor brand of Indonesian organic foods. We dedicated OFI as a partner and trade guide for you on meeting the supply of organic foods OFI Provides Organic – Quality – Life. We work with nature through dedication and delicacy to provide only the best quality of products. Coconut sugar as the signature product, alongside with long pepper, cubeb pepper, vanilla and dry fruits delivered to you with the spirit of a better life. The acquisition of accreditations and certificates, such as FLO-Cert-Fairtrade Coconut Sugar, Organic, HAACP and Kosher or Halal, has been evidently lift the value of our coconut sugar and other commodities. On that mission, we strive to bring you excellent services in providing the needs of your customer.
Organik Foods Indonesia AR UG and PT Mega Inovasi Organik became one of Indonesian creative products that participated in BIOFACH on 13-16 February 2019. Our booth's was located in Hall 6 Stand 6 – 419. We showed Organic Coconut Sugar, Cubeb Pepper, Long Pepper, and Organic Virgin Coconut Oil. This event gave an excellent networking experience for us to expand our market globally and chance to meet new buyer from overseas.

Products of Organic Foods Indonesia AR UG
Coconut sugar is the crystallized nectar of the coconut palm tree blossom (Cocos Nucifera) and made by a simple boiling, cooling, and grinding process. It has been used as sugar in South-East Asia for many centuries, most particularly in Indonesia. Our Organic Coconut Sugar is hand-made by a community of traditional coconut farmers in Central Java, Indonesia and processed naturally.
Cubeb pepper grows primarily in Indonesian especially Java. The fruits are gathered before they are ripe, and carefully dried. Commercial cubebs consist of the dried berries, similar in appearance to black pepper, but with tail. It is actually a small seed that is around 3mm – 4mm in diameter. It is primarily reddish brown in color, but it can also be dark brown or brown. The outer surface of the seed is wrinkled. Cubeb pepper is commonly used as a spice and as a pepper substitute. It has a distinct fragrance and characteristic pepper flavor. Cubeb taste peppery aromatic, pungent and bitter.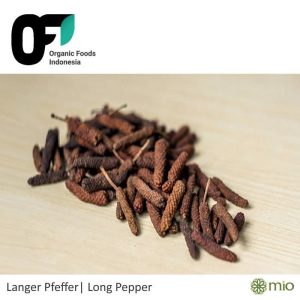 Long Pepper or known as Javanese Pepper is one of the interesting spices. It is a flowering vine in the family of Piperaceae and relative to cubeb pepper and pepper. Long pepper is a fragrant plant which climbs on other plants or spread on the ground. Long pepper has a similar but hotter taste than  black pepper.
 RAW COLD PRESSED COCONUT EXTRA VIRGIN COCONUT OIL
Our organic raw cold pressed extra virgin coconut oil is made directly from fresh coconut meat with theree times centrifuges and cold press method, resulting in a high quality virgin coconut oil with a bright white color. Our Oil is totally raw and in no part of the process any heat higher than 40° is used.